MASC 439: Agency
MASC 439: Agency
» Robertson School
The basics
MASC 439: Agency is the required capstone course in the undergraduate public relations sequence (PR) for mass communication majors. A designated service-learning class that provides public relations and communications support to area organizations, the stated mission of Agency is "student led PR for organizations in need".
Through an online application process, any organization may apply to be an Agency client, with a current focus on serving nonprofit clients (expansion to for-profit organizations is planned for the future). Currently, there are around 50 active applications from potential clients.
VCU offers six sections of the course each year, three per semester. Each class section receives one client, and students work together over the 16-week semester to create communication plans and campaigns based on the individual needs of their client. The fast-paced nature of the course and the demands of working with clients encourages the highest level of professionalism, performance, and strategic thinking.
Agency concludes with a formal student presentation (pitch) to the client, with all materials and rights to work passed to the client for use. Agency estimates $30,000 of pro bono community service through 2,040 hours of student work annually.
Partnerships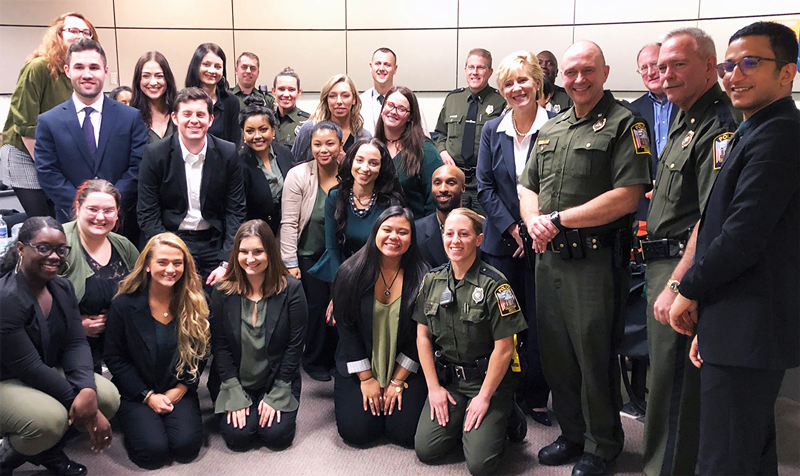 Each academic year, the MASC 439: Agency course partners with six local organizations as clients. Past clients have included the Chesterfield Police Department, Caritas, Northstar Academy, Boys Home of Virginia, and the VCU Division of Inclusive Excellence.
In addition to these organizations, the course partners with local PR agencies and communication departments by hiring adjuncts who are full-time PR professionals. These professionals serve as account directors (i.e., class instructors) who guide student work while monitoring progress and deliverables. The course also invites additional PR professionals to serve, along with the client, as reviewers of the students' formal pitch at the end of each semester.
For its campaign with the Chesterfield County Police Department, boosting recruitment with diverse audiences, Agency earned the Community Impact Award from the Richmond chapter of the Public Relations Society of America.
What makes MASC 439 stand out
The characteristics of MASC 439: Agency that make it such a powerful student learning experience include: (a) the entire class culture has been designed to mirror the PR industry work environment, (b) required prerequisite courses ensure that enrolled students have the knowledge and skills to take on a real PR client, (c) student team dynamics within the class help students learn to work successfully with others and to realize their own strengths and challenges, and (d) a 'controlled burn' approach to teaching provides students with multiple opportunities to experience failure within a supportive learning environment.
Questions?
To learn more about MASC 439: Agency, visit the program website or contact Joshua Smith at smithjj4@vcu.edu.