Keeping It VCU REAL showcase
Keeping It VCU REAL 2021
Join us for an online celebration of VCU experiential learning on April 15-16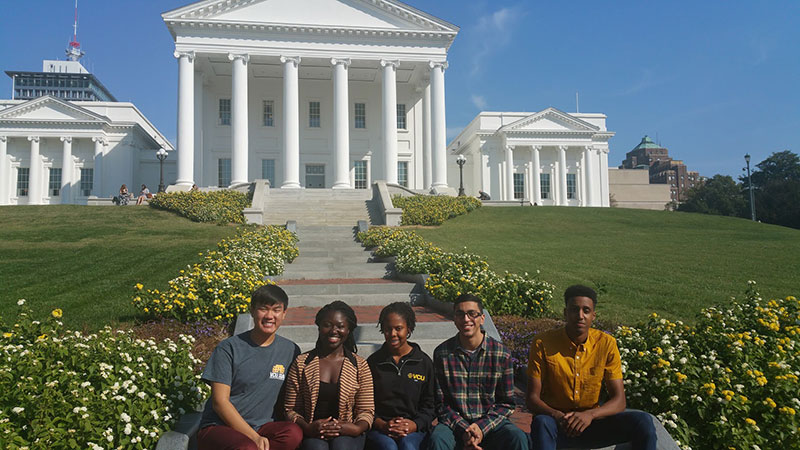 VCU REAL invites all members of the VCU community to join us for Keeping It VCU REAL 2021 on April 15 and 16. This online event serves as a showcase and celebration of experiential learning activities at VCU through poster presentation, TEDTalks-style keynotes, and more.
The two-day event is dedicated to advancing the presence and effectiveness of high impact experiential learning and recognizes its power both as a key strategy for supporting student success and for distinguishing a VCU education. In short, the day will celebrate experiential learning as part of VCU's "secret sauce" that we want all our students to engage with early and often.
Event schedule
All events will be held online through the Hopin platform. Please note: these dates/times are still tentative and subject to change.
Thursday, April 15
| Time | Presentation title | Speaker | Location |
| --- | --- | --- | --- |
| 2 p.m. | Opening remarks | Erin Webster Garrett | Main stage |
| 2:15-2:30 p.m. | Actively Engaging Students in Asynchronous Class Through Simulation | Manika Avashi | Main stage |
| 2:40-2:55 p.m. | Experiential Learning, Community-Engagement & City-as-Text in the Zoom Age | Ann Marie Gardinier Halstead | Main stage |
| 3-3:55 p.m. | Camp ADventure: A New Way to Camp | Jess Collins | Expo area |
| 4-4:15 p.m. | Reflecting on a REAL experience: Interview with VCU senior Kristin Ansah | Erin Webster Garrett and Kristin Ansah | Main stage |
| 4:20-4:35 p.m. | Prototyping the Future of Higher Education: da Vinci, REAL, and the Entrepreneurship Academy | Garret Westlake | Main stage |
| 4:40-5 p.m. | Networking | Everyone! | Networking area |
Friday, April 16
| Time | Presentation title | Speaker | Location |
| --- | --- | --- | --- |
| 8:55-9 a.m. | Day 2 opening remarks | Erin Webster Garrett | Main stage |
| 9-9:55 a.m. | What is the ICA Student Opportunities Program? | Michelle Hawkins and Dan Nemer | Expo area |
| 9-9:55 a.m. | Virtual Intercultural Learning and Engagement | Sarah Carrier | Roundtable |
| 10-10:55 a.m. | Student Education & Wellness Network | Alexis Jones | Expo area |
| 11-11:55 a.m. | Getting REAL with Transfer Students | Micol Hutchison | Roundtable |
| Noon-12:55 p.m. | Creating REAL Experiences through the Co-Curriculum | Jimmie Gahagan and Fred Tugas | Roundtable |
| Noon-12:15 p.m. | The Intersectionality of Making Tangible Change | Alexis Jones | Main stage |
| 12:20-12:55 p.m. | Meet and Eat Networking | Everyone! | Networking area |
| 1-1:55 p.m. | Engaging VCU Students in Cross-Cultural Conversations | Audrey Short | Expo area |
| 1-1:55 p.m. | Creating Meaningful Collaborations With External and Community Partners | Mary-Chris Escobar and Kelsey Steenburgh | Roundtable |
| 2-2:55 p.m. | The Importance of Service and Community Engagement | William Gordon | Expo area |
| 2-2:55 p.m. | Introducing the Transform Living-Learning Program | Jimmie Gahagan | Expo area |
| 2-2:55 p.m. | Student to Student: Why, How and Where to Find Experiential Learning | Odette Tansi and Justin Mapp | Roundtable |
| 3-3:15 p.m. | Student interview with mentor Matthew Vechinski from University College | Sydney Boyce | Main stage |
| 3:20-3:35 p.m. | The Importance of Community Service and Engagement Programs: A Student's Perspective | William Gordon | Main stage |
| 3:40-3:55 p.m. | Experiential learning through music | Justin Mapp | Main stage |
| 3:55-4 p.m. | Closing remarks | Erin Webster Garrett | Main stage |
Asynchronous sessions (available any time)
| Presentation title | Speaker | Location |
| --- | --- | --- |
| Demystifying SPSS in Research Methods | Christina Mancini | Expo area |
| Creating T-shaped Individuals Through the da Vinci Center's Experiential Learning Mission | Mary-Chris Escobar | Expo area |
| Making a Future for the Past: Virtual Curation Laboratory | Bernard Means | Expo area |
| VCU REAL Outstanding Mentor Award: Student-mentor interview | Laura Lemza | Expo area |
| VCU REAL Outstanding Mentor Award: Student-mentor interview | Tom Scharpf | Expo area |
| VCU REAL Outstanding Mentor Award: Student-mentor interview | William Newmann | Expo area |
| How VCU Career Services helps students | Haley Sims | Expo area |
Co-sponsors
We could not put on this event without the help of our co-sponsors, so special thanks to: